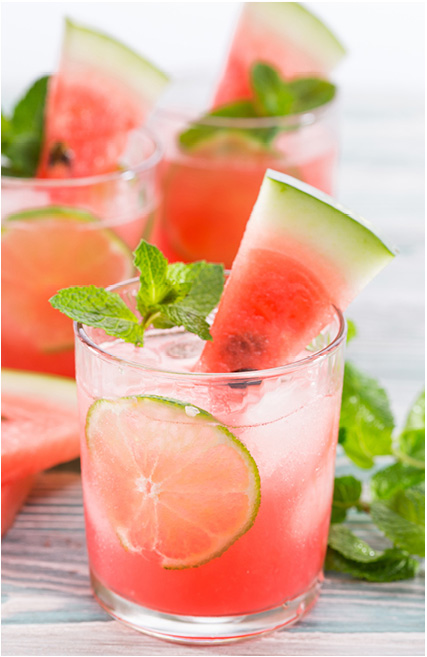 Watermelon Mint Cocktail
Serves 4
INGREDIENTS
3 cups watermelon, cubed with seeds removed (or 16 oz. Pete's Homemade Watermelon Juice)
10-12 mint leaves
6 tbsp fresh lime juice (3-4 limes)
6 oz. Tito's vodka (optional if making a mocktail)
12 oz. can chilled Canada Dry club soda
Garnish with watermelon slices, lime slices, and mint leaves (optional)
INSTRUCTIONS
1. Juice the watermelon cubes by crushing them with a wooden spoon or muddler. (Or open a fresh bottle of Pete's Watermelon Juice.) Add the watermelon juice, lime juice, and mint leaves to a cocktail shaker and muddle until the leaves are broken up slightly.
2. Add ice to shaker, pour in vodka (if using), and shake until cold.
3. Fill glasses halfway with ice cubes; pour contents of shaker (without straining) into the glasses.
4. Top with club soda, and stir gently.
5. Garnish as desired and enjoy!