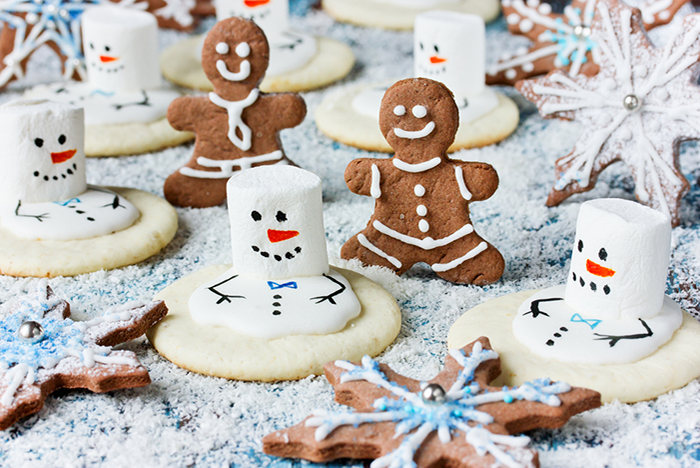 There are few greater joys than baking holiday cookies with kids. Wide eyes, joyous smiles, and family fun create precious memories, and delicious treats welcome the season! Pete's Market has everything you need to fill up your pantry with baking essentials, but we're also here to offer a little inspiration. We've pulled together a handful of yuletide cookie recipes to get you in the spirit. Enjoy!
Peppermint Mocha Cookies
Can we interest you in some soft, brownie-like cookies, dipped in white chocolate and dusted with candy-cane crumbles? We thought so. These peppermint mocha cookies from
According To Alexandria
take everything we love about the holidays and concentrate them into a perfect treat. Make a double batch, because these will go quickly!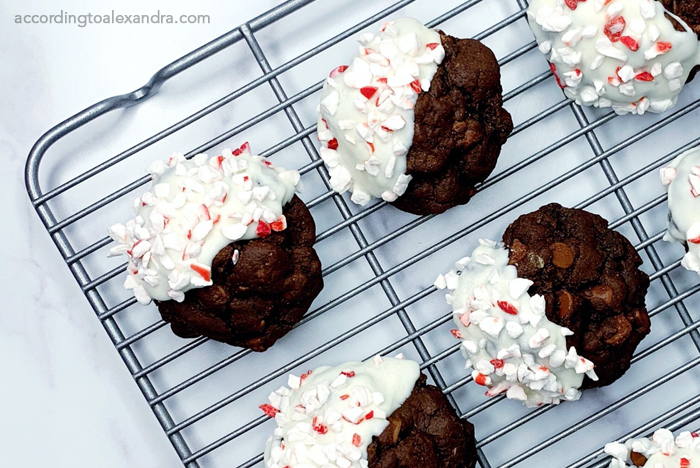 Using a mixer and a large bowl, beat ½ cup of butter until smooth, then add ½ cup each of granulated sugar and brown sugar. Continue beating on medium high speed until mixture is fluffy. Switch beater to high, and add in 1 egg, 1 tsp. vanilla extract, and 2 tsp. peppermint extract.
 
In a different bowl, whisk together 1 cup all-purpose flour, 1 tsp. baking soda, ½ cup (& 2 extra tbsp.) of cocoa powder, 2 tsp. of espresso powder, and a dash of salt. Slowly add the mixture to the bowl containing the wet ingredients, and beat on low as you do this. Once the dough starts to thicken, set beater to high and add in 1 cup semi-sweet chocolate chips. Cover the mixture and chill for 3 hours.
 
Remove from refrigerator, and let dough sit for 20-30 minutes if chilled overnight. Preheat oven to 350°F, then grease two large baking sheets (or line with parchment paper/silicone mats). Roll dough into balls, roughly 1½ tbsp each in size. Place on baking sheets and bake for 10-12 minutes. Allow to sit for 5 minutes, then transfer to cooling rack.
 
Coarsely chop 8 oz. of white chocolate, then melt. If melting in the microwave, stop every 15 seconds to stir the chocolate. Dip each cookie halfway into melted chocolate, and place on room-temperature mat or baking sheet. Sprinkle the 3 large crushed candy-canes onto the chocolate for each cookie, then place all cookies into the refrigerator until chocolate sets.
Melting Snowmen Sugar Cookies
Hands-down the cutest cookie in this collection, these scrumptious sugar cookies have the added charm of a whimsical snowman going through a mid-melt crisis. Fortunately, these cookies are so tasty, their torment will only be temporary. Your family will undoubtedly devour the entire batch in short order. Here's the recipe, from the amazing pros at
allrecipes.com
: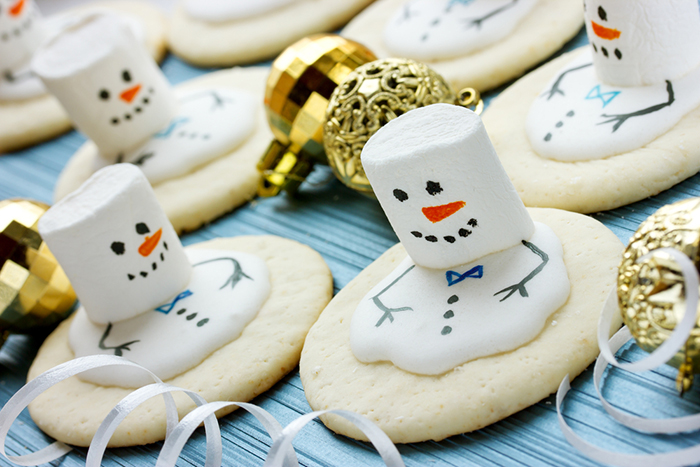 Preheat oven to 375°F. In a small bowl, mix 2¾ cups all-purpose flour, 1 tsp. baking soda, and ½ tsp. baking powder. Set aside. In a large bowl, cream together 1 cup softened butter and 1½ cups white sugar. Beat in one egg and 1 tsp. vanilla extract. Gradually blend in the dry ingredients, then roll rounded teaspoonfuls of dough into balls. Place the dough balls onto ungreased cookies sheets.
 
Bake 8-10 minutes, until edges are just golden brown. Remove from oven, and transfer to cooling racks. Recipe should yield approximately 24 cookies.
 
For the royal icing, beat 4 egg whites in a large bowl until frothy. Beat up to 8 cups of sugar into the egg whites, or until it holds shape. Beat in ¼ cup of lemon juice (or to desired taste and consistency).
 
Space out the cookies onto wax paper, then spread the icing on top – allow it to drip over the sides like melting snow. From your bag of 24 marshmallows, microwave one at a time until each one starts to puff up (around 20-30 sec). Immediately place on top of each cookie, near the edge, while the icing is still wet to look like a melted snowman.
 
Using various colored decorating gels, pipe onto the "snowmen" their twig-arms, coal eyes, smiling mouth, carrot-noses, and bow ties. Be creative! Allow finished cookies to dry at least one hour before removing from wax paper.
Peanut Butter Blossoms
For those who love combining the taste of peanut butter and chocolate, this cookie is heaven sent. Peanut butter blossoms are soft, chewy, peanut-buttery cookies with milk chocolate drops in the middle. These crowd pleasers are great any time of year, but there's something especially magical about enjoying their rich, sweet goodness during the holidays. Check out this easy recipe from
homemadehooplah.com
: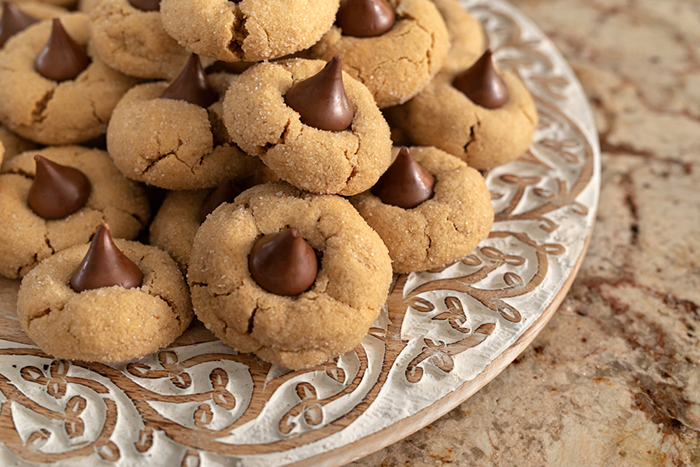 In a large bowl, sift together 1 tsp. baking soda, ½ tsp. salt, and 2¼ cups all-purpose flour. Set aside, and preheat oven to 375°F. Grease two large baking sheets (or line with parchment paper/silicone mats).
 
In a different bowl, using a stand mixer on medium-high speed, combine ½ cup vegetable shortening, ½ cup softened, unsalted butter, and ½ cup each of granulated sugar and brown sugar. Mix until smooth and creamy, approximately 5-7 minutes.
 
While mixer is off, add in ½ cup peanut butter. Mix on medium high for about 1-2 minutes. Reduce speed to low and slowly add in 2 tsp. milk, 1 egg, and 1 tbsp. vanilla extract. Maintaining low mixing speed, slowly add in dry ingredients from the original bowl until dough is formed.
 
Roll dough into teaspoon-sized balls, and roll in a small bowl containing enough granulated sugar to coat each one in the batch. Place on baking sheets and bake for 10-12 minutes or until bottoms are just golden brown. While the cookies are in the oven, unwrap 36 milk-chocolate drops and set aside. Remove baking sheets from oven and immediately press a milk-chocolate drop into the center of each cookie. Allow to sit for 5 minutes, then transfer to cooling rack.
Simple Gingerbread Cookies
Ah, the classics… nothing tastes more like the Christmas season than gingerbread. Not only are these cookies delicious, they're fun (and easy) to decorate. Your whole family can get in on the action with a simple batch of white frosting and a
makeshift piping bag
. You'll need some cute gingerbread-man or other fun-shaped cookie cutters, but we've made it easier by including this
Pillsbury™ recipe
(which lets you start out with pre-made, refrigerated, sugar cookie dough):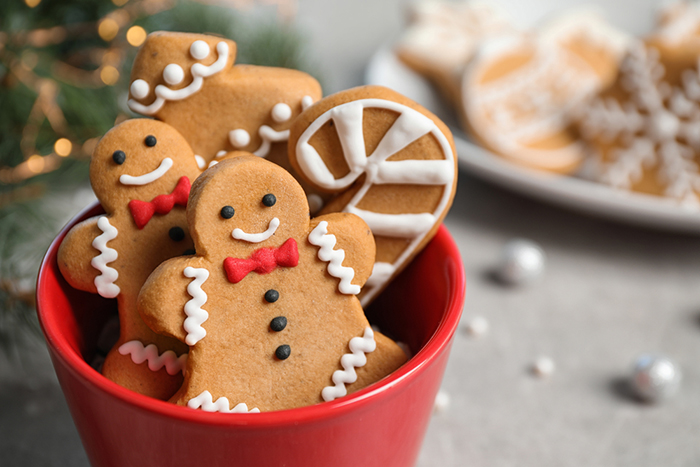 Unroll and crumble one roll of 16.5 oz Pillsbury™ refrigerated sugar cookie dough into a large bowl. Stir in 3 tbsp. of molasses, then add ¼ cup all-purpose flour, ¾ tsp. ground cinnamon, ¾ tsp. ground ginger, ½ tsp. ground allspice, and ¼ tsp. ground cloves. Mix all ingredients with your hands.
 
Divide dough in half, forming two separate discs. Wrap each in plastic wrap, and refrigerate 1-2 hours or until thoroughly chilled. Preheat oven to 375°F. On a floured surface, roll one of the discs until it is ¼" thick. Cut out shapes using cookie cutters, then place cutouts on an ungreased cookie sheet approximately 2 inches apart. Repeat for remaining dough, rerolling scraps as necessary.
 
Bake 7 to 9 minutes, or until cookies are light golden brown around the edges. Remove from oven, and let sit on cookie sheet for 3 minutes. Transfer to cooling rack for 20 minutes before decorating with frosting.
 
 
Pete's Market wishes you the happiest of holidays and a wonderful new year. However you celebrate, we sincerely hope you stay well, eat well, and enjoy your family festivities.