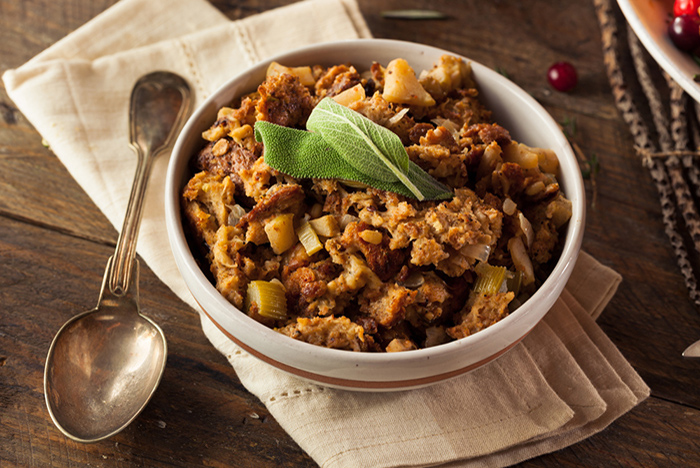 Thanksgiving traditions are sacred, and messing with family recipes can be tricky business. Tricky, but not impossible. Perhaps there's been a changing of the guard, and YOU are now in charge of the meal. Or, maybe there's been an uprising; one where the adult siblings are finally putting their foot down against Mom adding ginger ale to the yams. Opportunities to shake things up do present themselves on occasion. Pete's Market wants you to be ready when they do. No better year than 2020!
Let's skip the debate over whether or not to deep-fry the turkey in the driveway. Also, there's no need to waste time on tinkering with the ambrosia recipe. Today we go straight to the big leagues: Thanksgiving stuffing.
 
No turkey dinner is complete without the stuffing, a side dish with a dizzying array of potential variations and tastes. Yet, we typically stick with what we know and use the same recipe year after year. If you're ready to start your own tradition or just want to go rogue for a change, we've got four new stuffing recipes that will tantalize your taste buds and fetch rave reviews from your relatives.
Winter Fruit & Nut Stuffing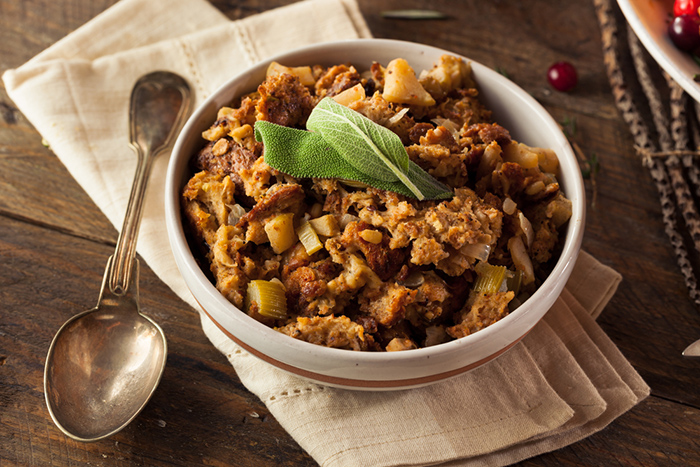 A little wine paired with sweet winter fruits sets the tone for this delicious recipe from
Epicurious
. Apricots and pears mingle well with the classic taste of sage and rosemary, as cranberries, celery, onions, and pecans round out the base of this unique stuffing. There's no better way to greet the winter months than with this cornucopia of seasonal flavors.
Ingredients:
12 tablespoons (1½ sticks) butter
2 large Anjou pears, peeled, cored, and cut into ½-inch cubes
1 tablespoon sugar
¾ teaspoon ground cinnamon
4 cups chopped onions
1½ cups chopped celery
1½ cups sweet white wine
1½ cups chopped pitted prunes
1½ cups chopped dried apricots
1 cup dried cranberries
2 tablespoons chopped fresh rosemary
1 tablespoon chopped fresh sage
14 cups ½-inch cubes crustless firm white bread
1 cup pecans, toasted, chopped
Directions:
Grease a 13x9 baking dish, and preheat oven to 350°F. Melt 2 tbs. butter using a large skillet on medium-high heat. Add pears and sprinkling sugar on top. Sauté until the pears are golden brown, 5-6 minutes. Remove from heat, place pears in a large bowl, and add cinnamon.
 
In the same skillet, melt remaining butter. Add onions and celery, then sauté for 13-15 minutes. Add wine, prunes, apricots, dried cranberries, rosemary, and sage, then mix and simmer in skillet until the liquids reduce down to a glaze. Cook for approximately 15 minutes. Hint: you can do all of this a day in advance, if you like. Add bread, pecans, and fruit mixture to the large bowl containing your caramelized pears. Add salt and pepper to taste. Transfer contents to your greased dish, and bake uncovered for 35 minutes.
Whiskey Sausage Apple Stuffing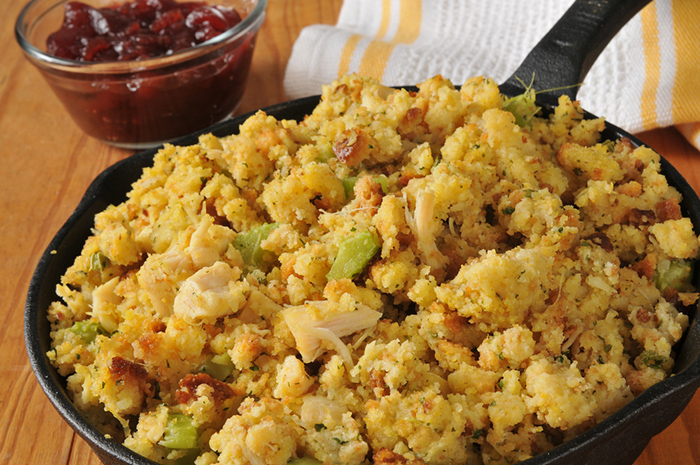 Apples aren't a radically different addition to Thanksgiving stuffing, but this recipe from
Country Living
elevates their flavor from bit-part to a starring role. The supporting cast delivers stellar performances as well: festive cinnamon, plump raisins, and hearty cornbread. With cameos from spicy cayenne pepper and woodsy whiskey, this is a five-star feature for your Thanksgiving table.
Ingredients:
4 cups diced apples
½ cup raisins
1½ cups apple juice
2 teaspoons nutmeg
1 pinch cayenne pepper
1 teaspoon cinnamon
1 teaspoon chopped fresh sage
1 tablespoon salt
1½ cups butter
¼ cup whiskey
8 (2-ounce) chicken, pork, or turkey sausage links
8 cups cornbread stuffing
1½ cups pecans
Directions:
Preheat oven to 400°F. In a medium bowl, combine apples, raisins, apple juice, nutmeg, cayenne pepper, cinnamon, sage, salt, butter, and whiskey. Set aside.
 
In a medium skillet, cook sausage while breaking it up into mid-sized pieces. Add cooked sausage to clean, large bowl, and combine with cornbread stuffing and pecans. Spoon apple-raisin mixture over the bread and sausage mixture, and then mix it all together. Put entire contents into a cast-iron skillet or casserole dish. Bake 35-45 minutes, or until stuffing sets with a nice crust on top.
Tortilla Chip Chorizo Stuffing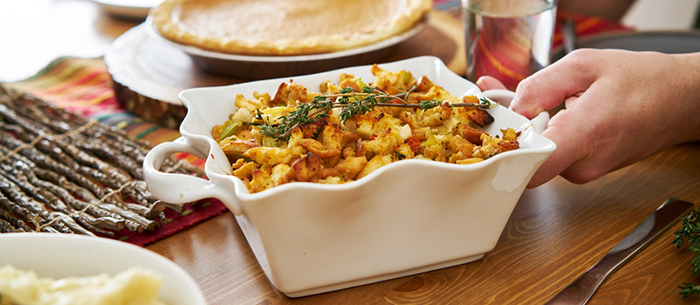 Here's a fantastic Tex-Mex spin on everyone's favorite Thanksgiving side dish: chorizo sausage and crunchy tortilla chips! This perfect infusion of nachos and stuffing actually works, despite being as far out of the box as holiday recipes can get. If you love food with a southwestern flair, try out this recipe from
The Bitten Word
. Why not go all in, and give your entire Thanksgiving dinner a dash of southwestern flavor? Try serving this stuffing with a
chile-rubbed roast turkey
and
pumpkin empanadas
for dessert. Olé!
Ingredients:
8 tablespoons unsalted butter, plus more for the baking dish
12 ounces dried chorizo, chopped
4 bunches scallions, chopped
4 4-ounce cans chopped green chiles, drained
2 teaspoons ground cumin
3 cups low-sodium turkey or chicken broth
2 large eggs
½ cup chopped fresh cilantro
1 13-ounce bag of crushed  corn tortilla chips
8 cups stale white bread cubes
2 cups cubed queso fresco cheese
Kosher salt and freshly ground pepper
Directions:
Preheat the oven to 375°F. Melt 8 tbsp. butter over medium heat in a large skillet. Add chorizo, scallions, chiles, and cumin. Combine, stir, and cook about 4 minutes, or until the chorizo starts to turn brown. Add broth and bring to a simmer.
 
In a large bowl, whisk eggs and cilantro together. Add bread, cheese, and tortilla chips. Salt and pepper to taste. Gently pour in the chorizo-broth mixture from the skillet, and toss to combine. Transfer the stuffing from the large bowl to a greased baking dish. Cover with foil and bake 30 minutes. Remove foil and bake 25-30 additional minutes.
Mushroom, Leek, & Bacon Stuffing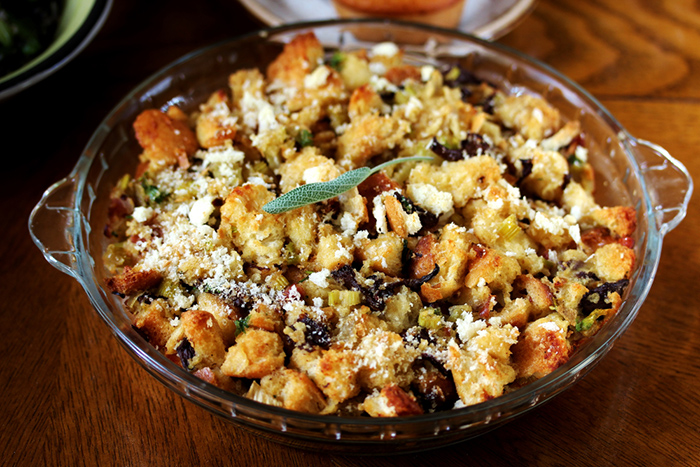 This mouth-watering stuffing is perfect for cooking on the side, or inside the bird. Either way, you end up with a unique crowd-pleaser. Feeding vegetarians? Eliminate the bacon (or cook it separately, and let the meat-eaters add it to their own portions). The mushrooms and leeks give this recipe a hearty flavor all on their own; removing the bacon doesn't undermine the dish. Of course, the meat lovers will tell you it's all about the bacon. We'll leave that debate for the dinner table…
Ingredients:
3 tablespoons melted butter, more as needed for greasing pan
1½ pounds cubed or crumbled white or corn bread
½ pound thick-cut bacon
2 large leeks, trimmed and sliced (3 cups)
1½ pounds mixed mushrooms, cut into bite-size pieces
1½ teaspoons kosher salt
¾ teaspoon black pepper
2 tablespoons chopped sage
½ cup dry white wine
1¼ cups chicken stock, more as needed
¼ cup apple cider, if using white bread
3 tablespoons chopped parsley
Directions:
Toast the bread on a baking sheet (or two) for 30-45 minutes in the oven on 250°F. Toss once or twice while toasting. Once thoroughly dried in the oven, place bread into a large bowl and allow to cool. Set oven to 375°F.
 
In a large skillet, cook bacon on medium-high until well done. Place on paper towel, leaving drippings in the skillet. Add leeks to the bacon fat, stir, and cook 5-10 minutes until softened. Add mushrooms, 1 tsp. salt, and ½ tsp. pepper. Toss mixture and cook 10-15 mins, stirring frequently. Add sage, cooking for one additional minute. Add wine and cook 2 more minutes.
 
Spoon mushroom mixture over the dry bread. Add the chicken stock (or cider, if using white bread). Add parsley, ½ tsp. salt, and ¼ tsp. pepper. Crumble the bacon, add, and combine. Transfer stuffing to a greased baking pan. Drizzle 3 tbsp. butter over the stuffing and bake 35-45 minutes.
 
Every year, Pete's Market has your back with the freshest ingredients and wide range of choices for all of your Thanksgiving needs. Whether you're having parts of your holiday dinner catered or pre-ordering fresh (never frozen) turkey to cook in your own home, we are here for you as your trusted source for quality and exceptional service. We are thankful to have you as our valued customer.