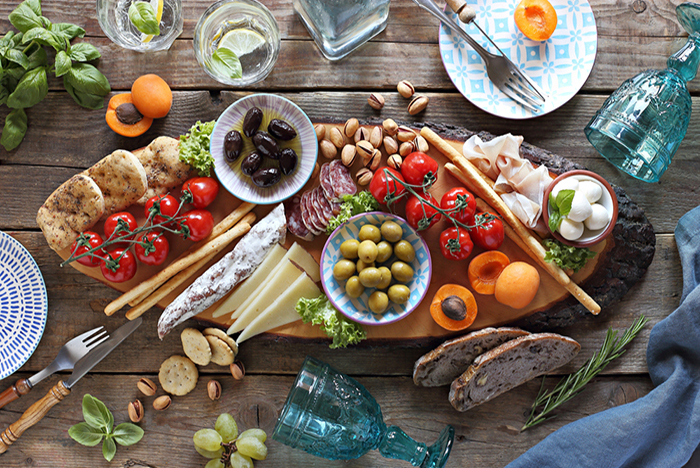 Imagine your next get-together… you're unveiling a gorgeous charcuterie board including mini toasts, marinated artichokes, prosciutto, and French brie cheese. Friends gather as they fawn over your creation, paying particular attention to the roasted cashews and sun-dried tomatoes you used to fill in the empty spaces. Meanwhile, Dave and Brenda from down the street are adding their contribution to the potluck: a bag of cheddar-blasted potato chips and a can of bean dip. Nobody says it out loud, but it's very clear. The score is you: 1, Dave and Brenda: 0.
Whether you're entertaining a large group or simply treating a few loved ones, charcuterie boards are a great way to step-up your hosting (or guesting) skills without putting forth an extraordinary effort in the kitchen. Even though no cooking is required, charcuterie is still an art form; one that involves an understanding of different meats, cheeses, dips, breads, and other garnishes. With a little practice, you'll get a reputation for the kind of "fancy" appetizers that will be the envy of your neighbors.
Here are a few tips to keep in mind before building your charcuterie board:
Get the Right Board for the Job
Be sure to gauge the size of the group you're serving, and board-up accordingly. You'll want a thick and sturdy board with a little texture to its surface. If the board is too smooth, your goodies might be prone to slide off at the slightest tip. If you want to level up the class-factor, consider going with a marble slab.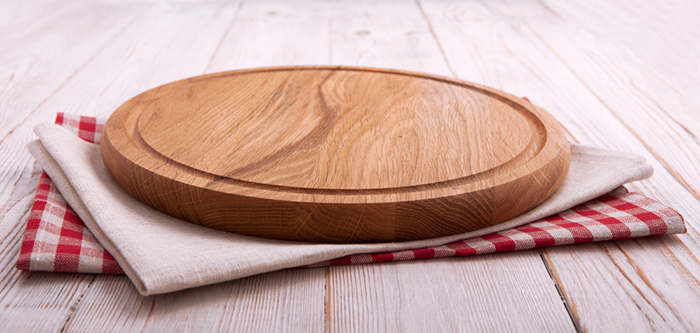 A few smaller boards can be pieced together for a full presentation. This is a great option if storage is an issue, or you simply don't want to invest in a larger board.
Choose a Lane, and Stay In It
Building a charcuterie board gives you the opportunity to celebrate food in a palette of flavors. As such, picking a theme will only serve to enhance your hard work. You could go for an Italian vibe, leaning on mozzarella cheese and soppressata – or perhaps a Mediterranean theme, centered around suho meso and Greek feta cheese. If a French or Spanish charcuterie board is more appropriate, Pete's Market offers quality choices to bring your creations to life.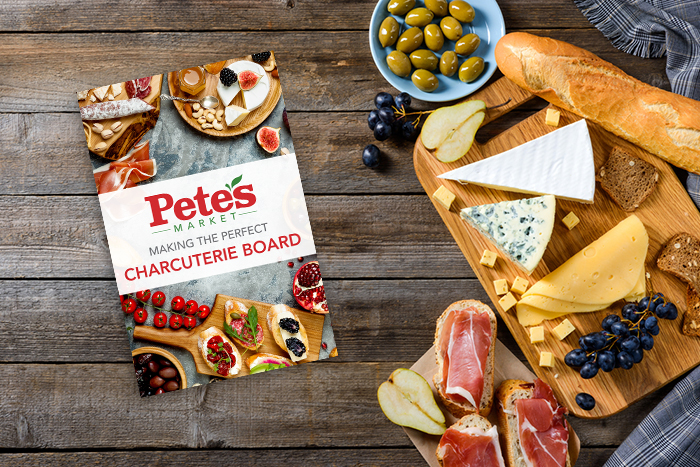 Take the guesswork out of the process, and download the Pete's Market charcuterie ingredients guide. Not only will it break down each and every element by international theme, but it also offers suggestions on wine pairings for the type of charcuterie board you're creating. We're here to help!
Little Bowls are Essential
Some of your charcuterie ingredients might be best served in a bit of their own juices, like olives, cocktail onions, or pickles. You also may decide to offer a dip or pâté alongside your meats, cheeses, and breads. Incorporating small bowls into your display allows for easy incorporation of wetter foods. Stylish bowls that complement the look and texture of your board will further elevate your game.
Your Star Players: Cheeses and Meats
You'll want to offer at least three varieties of cheeses and meats on your charcuterie board. Go for different flavors and textures, all the while being mindful that the meat and the cheese really are the main event. Everything else on your board is the supporting cast. So choose your cheese and meat wisely, as they can make or break your entire board.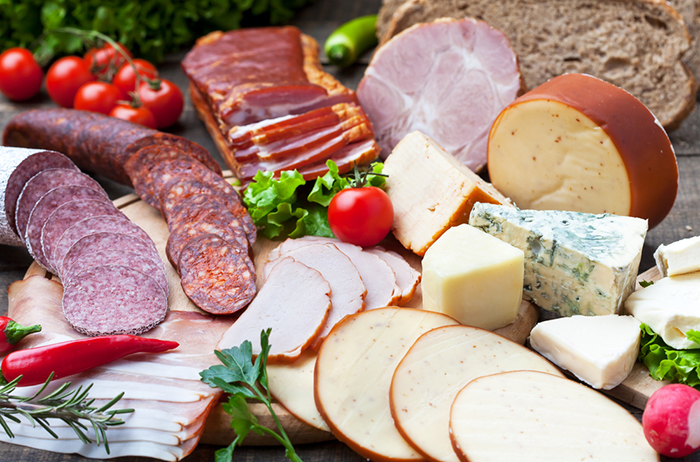 As for placement, there's no wrong way to arrange your ingredients. But a good rule of thumb is to arrange the cheese clockwise, from softest to hardest. Leave space for the meat, which can be added around your fanned-out cheese in an attractive way. When you're happy with how it looks, fill in the extra space on the board with breads, fruits, finger foods, spreads, and dips.
Breads Should Be Functional (and delicious)
When choosing breads for your charcuterie board, consider that they will often be used as a delivery system for the rest of the food. People will use the pita bread, baguette, flatbread, and even crackers as a means to create an open-faced "sandwich" of sorts with the meat, cheese, and other goodies. In light of this, you'll want to be sure your bread choices are varied and that the options are large enough so participants can stack-on some of the other items from your board.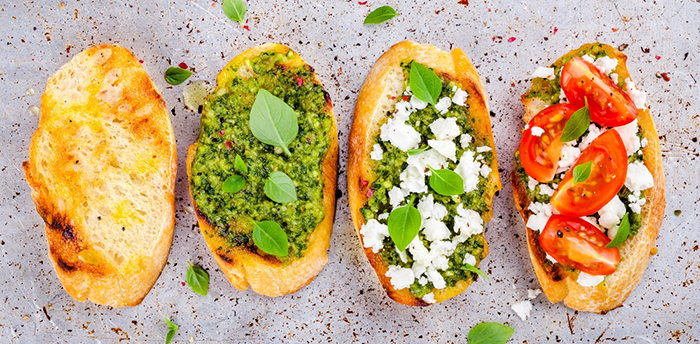 Be sure to include a gluten-free bread selection, and always have more bread at the ready so you can replenish the supply when it gets low.
Nooks and Crannies
Once the cheese, meat, and bread are nicely in place, fill the spaces in between with the rest of your food selections. Vegetables, fruits, nuts, and other delectable choices are what makes your charcuterie board unique. Use colorful foods with varying tastes and textures to make your artistry stand out.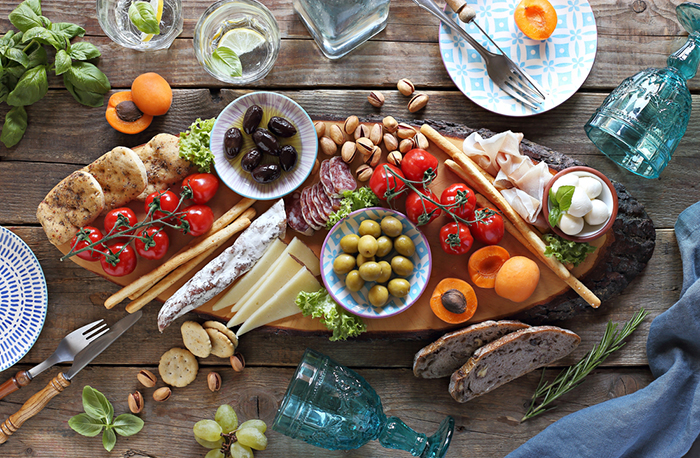 If you want a little old-school charm, offer a variety of shelled nuts like walnuts, chestnuts, and pistachios, along with a hand-held nutcracker for your guests. Similarly, you'll want to lay out toothpicks, skewers, napkins, and knives so that nobody gets stuck without the proper tool as they enjoy your masterpiece.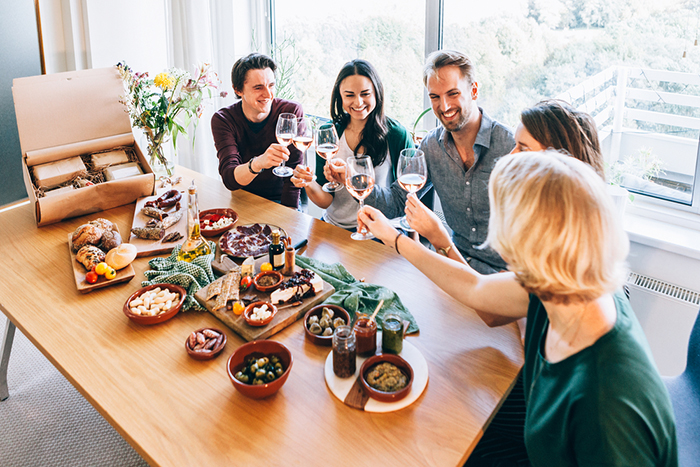 Now that you've reviewed the basics, click here to download our in-depth charcuterie board guide. This free Pete's Market booklet contains detailed, specific recipes for five different internationally inspired spreads for your next gathering or family celebration.