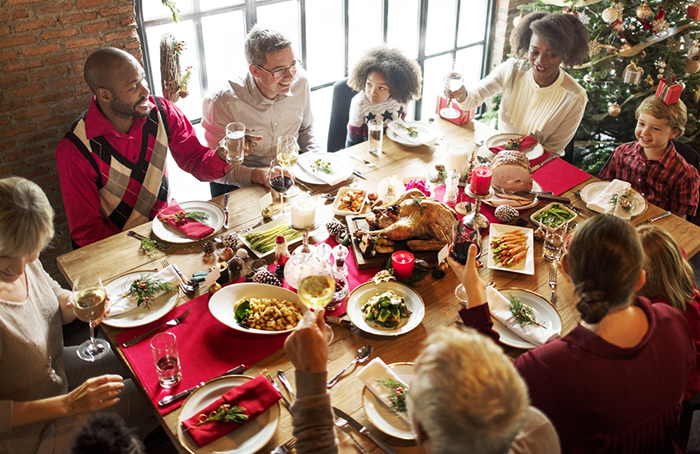 It's a universal truth: good food makes the holidays shine. It's why we toil away for hours in the kitchen on Thanksgiving, making sure everything is just right. We lay out a big spread for Christmas, Hanukkah, Kwanza – however we choose to celebrate – because nothing brings us together like a comforting meal. But for all the magic and joy of the season, putting on a big dinner for family can sometimes awaken our inner-Grinch.
2020 has been a rough year. The ongoing Covid-19 pandemic interrupted family reunions, summer parties, and fall traditions. Thanksgiving and Christmas this year will still be socially distanced or (for families spread across the country) celebrated over Zoom. But nothing will stand in the way of the traditional holiday meal. If we've learned anything this year, it's that they can cancel movies, concerts, and festivals… but nobody messes with dinner.
Ask yourself: do you really want to cook the big one this season? Even if you're only hosting a few people or just your immediate household, the idea of babysitting a turkey for five hours (all while making side dishes) might not exactly light your fire. Fear not, Pete's Market has your back! Let us handle the cooking so you can put your feet up and end the year on a relaxing note. Need more reasons to take a break? Read on…
Because Our Meals are Prepared by Real Chefs (like Jorge, below)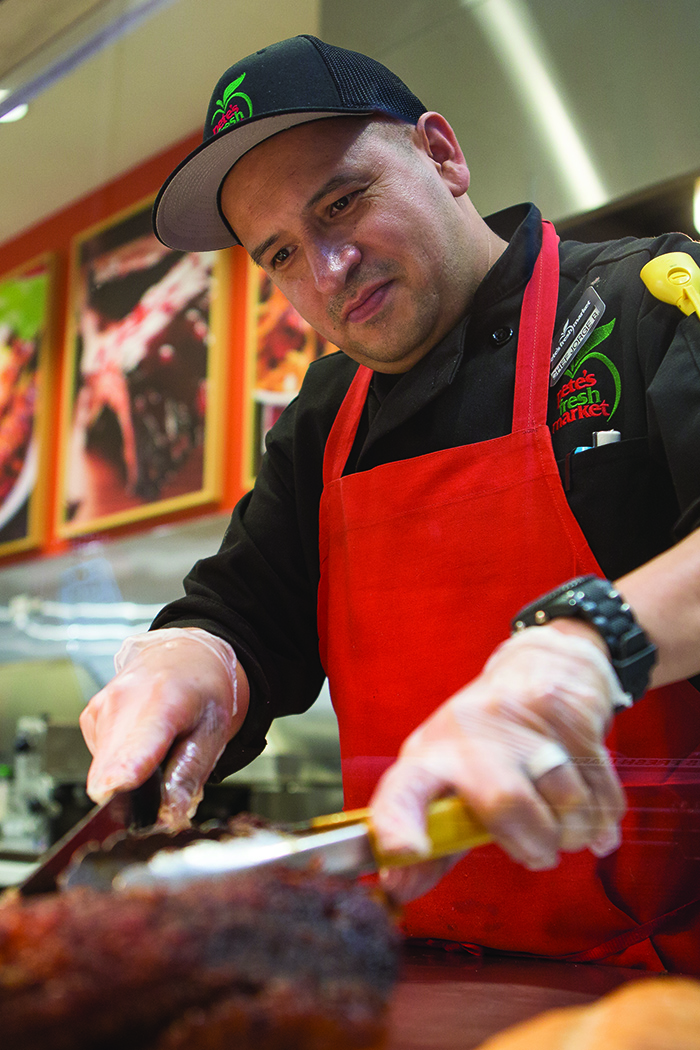 Behind the scenes at any Pete's Market, you'll find more than produce experts, deli professionals, and international bakers. You'll find trained culinary artists, many of whom got their start in Chicago's finest restaurants. Our chefs take great pleasure in creating a holiday catering menu that not only appeals to everyone, but also assists those who could really use a break from cooking.
Only the best ingredients are used in our gourmet, top-of-the-line kitchens, and everything is prepared to perfection – accurately and timely. Creativity, paired with a deep understanding of spices and flavors, drives our chefs to put forth genuinely delectable catering options for Pete's Market customers. The winning combination of talented staff and top-tier food procurement yields results that earn our stores a reputation for excellence.
Because You Can't Get Covid-19 From Food
According to the Centers for Disease Control, there is currently no evidence to suggest that the handling or consumption of food is associated with Covid-19. The novel coronavirus is most often spread person to person, through respiratory droplets. While it is important to wash your hands after handling packages or visiting public spaces, your risk of catching the virus in NOT increased by ordering food.
Pete's Market employees have always incorporated strict hygiene practices, even before the world's renewed interest in soap and hand-sanitizer. We take the health of our team members and customers seriously, placing a priority on safety. In light of recent events, our team wears masks and checks their temperatures every day. In short, ordering your holiday dinners from Pete's Market is a safe, risk-free treat that you deserve.
Because Your Options are LIT
You would expect a holiday catering menu to offer Ham and Turkey, sure, but what about Prime Rib? Lasagna? Leg of Lamb? If you're hanging up the apron this year and trusting us to provide your holiday meal, then you deserve the world on a platter! Pete's Market offers eight pages of holiday catering options, featuring appetizers, entrées, sides, desserts, and more.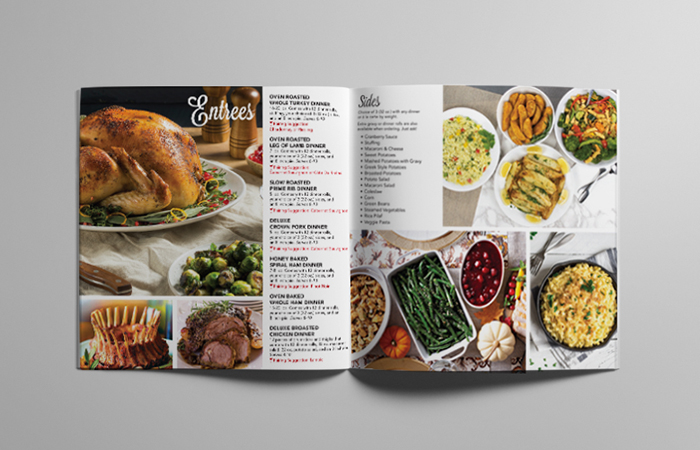 You're already bucking tradition, so why not let it ride and really mix it up? Try a fruit or cheese platter with a deluxe crown pork dinner and a side of homemade tamales! Ooh, wait… try the broasted chicken with a pastichio (basically a Greek lasagna with bechamel cream sauce). Add green beans, sweet potatoes, and stuffing… boom! Instant holiday dinner – no effort, no stress. Bring it all home with a pecan pie, cheesecake platter, tiramisu tray, or butter cookies. There are way too many choices to cover in this blog; click here to review all the available options and even place your order online.
Because Fewer Dishes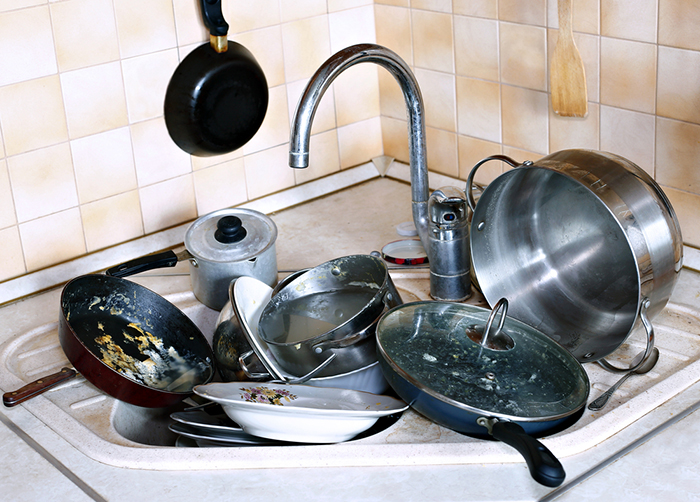 It's bad enough having to do the dishes after the meal, but it's so much worse when every mixing bowl, frying pan, and strainer in your kitchen is also dirty from cooking a huge feast. Haven't you spent enough time cleaning stuff this year? Cut the amount of dirty holiday dishes in half by letting us do the cooking. Spend that extra time actually reading a book or binge-watching that new Netflix series. Or take a nap. Remember naps?
Because It's Not Expensive
Even if you're cooking everything yourself, it's not like it's free. You still have to pay for your groceries. Let's not forget the price of added pressure, last minute crises, and that unapproving look from your mother-in-law.
All of our holiday menu items are priced at a great value, with easy (and free) pickup. When you factor in the quality and convenience, you'll wonder why you've been cooking holiday meals at home all these years. Take a look at our prices, then ask yourself what your time and sanity are worth
Because Poinsettias are on the Menu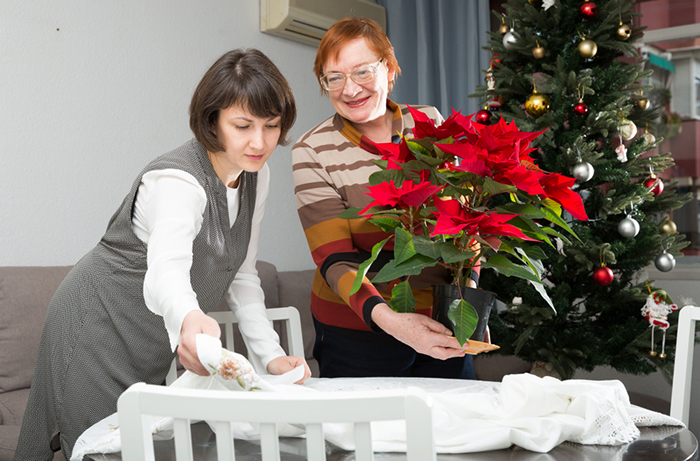 Pete's Market loves to go the extra mile, so we've made poinsettias and a floral cornucopia centerpiece available on our holiday catering menu. Just like the myriad options in our stores, your catering to-go team has created a one-stop shopping experience for your year-end celebrations, whether you're a guest who doesn't want to come empty-handed or the host of the event. We can help you secure everything you need to plate-up a scrumptious meal and add a dash of holiday charm to the room where you and your family will be giving thanks and looking forward to a better year ahead.
Place your holiday catering order in any of our stores by visiting the customer service desk, or order online from catering.petesfresh.com.